California, Nevada, and Texas blueberry-lovers, have we got news for you! From now until June 20th, Public School restaurants will be adding a boost of blue to their menus with six new blueberry-inspired menu items! In fact, Public School is declaring April 28th their Blueberry Day, which just so happens to also be National Blueberry Pie Day, so there's no better time to give these new dishes a try!
We sat down with Chef Tamra Scroggins, Director of Culinary for Grill Concepts (Daily Grill and Public School restaurants) to learn more about their new blueberry offerings.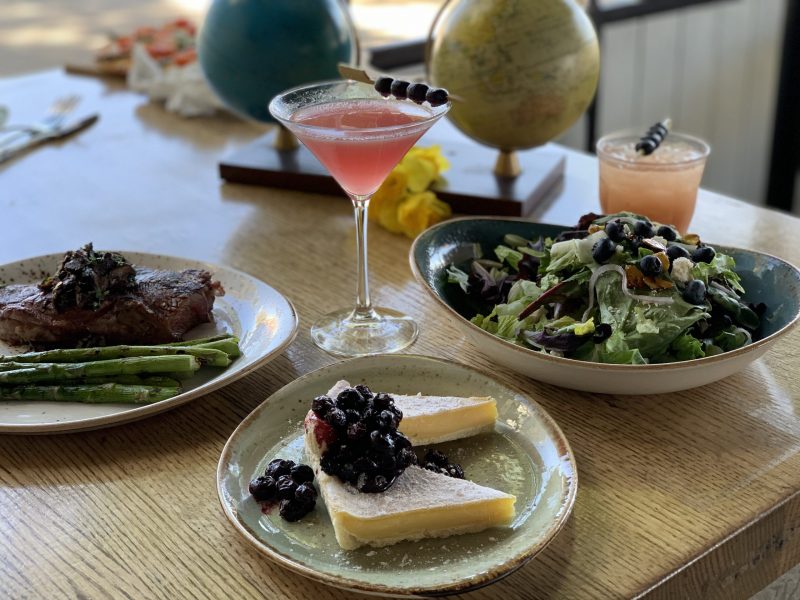 Why blueberries?
We've all been cooped up for the last year and people have been ordering comfort foods that whole time, and now they want to feel like spring is finally here! They want something fresh and pretty, a symbol of hope and happiness. Blueberries' color pop, the sweet/tart burst of flavor – it's good for our health right now.
Can you describe some of these new blueberry-inspired dishes?
Just this spring we launched a "We Have the Blues" salad at our Public School locations and it's doing really well. Using blueberries in two different ways, it has a great combination of flavors, all layered together very intentionally. The salad base is romaine hearts and mixed greens blended to showcase lots of bright shades of green, colorful, tangy and sweet julienned red onions, creamy, salty feta cheese, crunchy sweet & salty honey almonds (baked with honey + sea salt), and vibrant fresh blueberries for an additional pop of color and sweet-tart flavor and texture. It's topped off with a lemon blueberry vinaigrette that combines lemon juice, honey, garlic, fresh blueberries, lemon zest, and an olive oil blend.
On the sweet side, we launched a lemon bar dessert topped with a blueberry sauce, made with fresh blueberries. And we have several cocktails and mocktails featuring blueberries as well, including a Blueberry Peach Margarita, Blueberry Lemon Drop cocktail, and Blueberry Lemonade mocktail, because blueberries add brilliant color and familiar flavor, yet still bring something new and unique to the beverage category.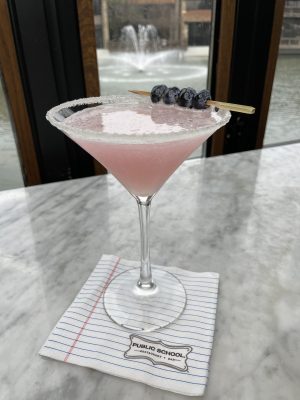 Describe the overall flavor experience and how the combinations of flavors complement the dishes. 
I'll focus on the salad for this one, as it has the most complexity and layers, and perhaps the most unique uses of blueberries. This salad is a total hit because it has a little bit of everything – crunchy lettuces, soft creamy feta, a tangy vinaigrette, and the sweet-tart pop of blueberries. It's a robust sensory experience to have sweet, salty, savory and tart all at once! Beyond that, blueberry and lemon are a classic combination that goes well together, and we had fun taking that from what's often a dessert or beverage application to a more savory one. We already have a lemon vinaigrette on the menu that's very popular, so this was an easy way to take that and add fresh blueberries as a simple plus one.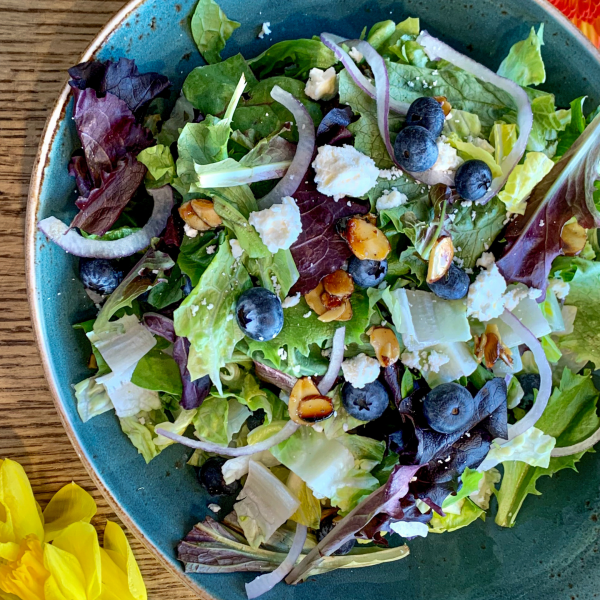 Can you share any ideas for extensions or expansions of this menu item?
If it continues to perform well, this salad could go on the menu permanently as we have blueberries year-round at Public School.
Planning to head to your local Public School to give these a go? Be sure to follow and tag us on social media at @blueberries and @publicschoolrestaurant to let us know how much you love these new dishes!