Chef Jessica Foust explains why blueberries are a highlight on Farmer's Fridge's summer menu.
Known as a haven for fresh, responsibly sourced, healthy food, Farmer's Fridge has redefined the vending machine and the meaning of fast food. With a focus on seasonal produce, this concept delivers on its mission to make wholesome, delicious food simply accessible. So, it's no surprise that blueberries, with their countless nutritional benefits, bright color and bold flavor, are prominently featured on Farmer's Fridge's summer menu.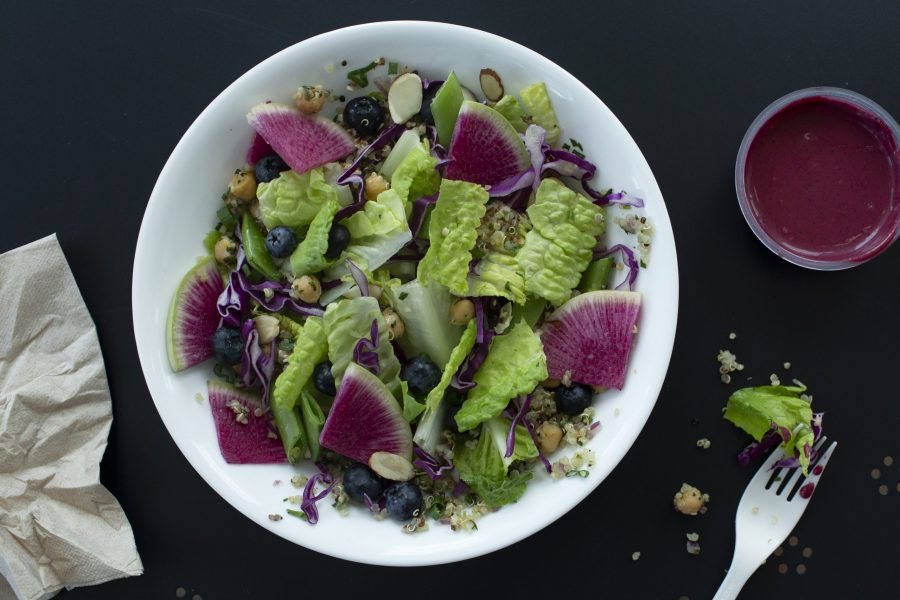 Jessica Foust, culinary director at Farmer's Fridge, explains why blueberries are being celebrated on menus this summer.
1. What inspires the Farmer's Fridge culinary team in developing new seasonal LTOs?
We are inspired daily by the ingredients available to us and the feedback we receive from our customers.  Our menu is chef-curated and customer-led. Our proprietary technology and customer feedback tools enable us to quickly understand what our Fridge Fans are craving so we can create fresh food experiences that help them eat a little happier.
2. What makes blueberries a good fit for Farmer's Fridge offerings?
Blueberries are one of our favorite ingredients at Farmer's Fridge because they deliver great flavor, color and nutrition in our recipes—and customers naturally feel great about eating them.  They are also very easy for us to prepare in our kitchen and are versatile since they can be used fresh, frozen or dried without compromising quality.
3. When selling from on-the-go vending machines, first impressions are everything. Do you find blueberry's instant health halo recognition attracts the health-conscious customer?
We eat with our eyes first, and when a customer visits a fridge, their first impression is primarily driven by the freshness and quality of the food they see.  Fresh blueberries have proven to be an incredibly craveable ingredient to our customers, and they're featured in some of our most popular recipes, including our top-selling Greek Yogurt & Granola Bowl.
4. As the new summer LTO, we are eager to try the new Blueberry Mezze Salad! Can you share what was the inspiration behind this new salad creation?
The inspiration for the Blueberry Mezze Salad was primarily the ingredients (blueberries!) and a celebration of spring and all it has to offer (especially after a very long, Midwest winter).  This new salad delivers on this seasonal freshness by utilizing not only fresh blueberries, but also frozen blueberries which are the anchor for our housemade Blueberry Vinaigrette (recipe below).  Paired with crisp sugar snap peas, cucumbers, watermelon radishes and toasted almonds, this colorful and flavorful salad is a spring celebration in a jar…and just so happens to be vegan too!
5. Lots of delicious ingredients packed into one salad! Why did you pair blueberries with these ingredients and flavor profiles?
We were looking for a fresh way to celebrate spring and felt that the tangy freshness of our non-traditional tabbouleh would highlight blueberries very nicely while also providing a boost of protein from the quinoa and chickpeas.
6. The Blueberry Mezze Salad is a nice blend of savory flavors, with a pop of tangy sweetness from fresh blueberries. Were you surprised by blueberry's versatility in savory applications?
Yes, blueberries work well in both sweet and savory applications.  In the Blueberry Mezze Salad, the fresh blueberries provide a pop of sweetness that balances the savory tabbouleh.  While the frozen blueberries in our housemade Blueberry Vinaigrette add a tangy sweet kick and deep purple color that makes it truly unique.
7. Not only does the salad sound delicious, the blueberry vinaigrette pairing also sounds like a big punch of flavor! With sumac, Aleppo chili and frozen blueberries, what was the inspiration behind this unique dressing?
Blueberries pair well with citrus-flavored ingredients.  Sumac has a citrus flavor and Aleppo pepper adds a unique fruitiness that goes nicely with blueberries and adds a special touch that complements the ingredients in the salad perfectly.
8. Aside from the Blueberry Mezze Salad, are there any surprising or unexpected flavor pairings you've found work well with blueberries?
I love using blueberries in savory BBQ recipes as a glaze or finishing sauce.  I've also been using blueberries as I experiment with the perfect spring drink addition – housemade fruit shrubs! I love the color and tart, sweet flavor the blueberries impart.
9. As a chef, what is your personal favorite blueberry dish and/or recipe?
While I love cooking with blueberries, my favorite recipe is no recipe at all, but rather picking them fresh from my garden.
10. For the blueberry lovers out there, do you have any exciting plans on the horizon for blueberries past summer?
I'm always experimenting and look forward to creating many more recipes featuring blueberries in unique ways on our menus for summer and beyond!
Farmer's Fridge Blueberry Vinaigrette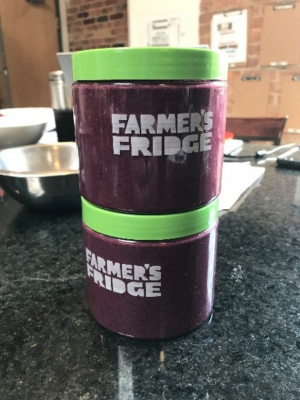 Yield: 12 Servings
Ingredients:
1 1/4 cups blueberries, frozen
1/3 cup apple cider vinegar
2 Tbsp lemon juice
3 Tbsp lemon zest
5 Tbsp agave
1/4 cup water
3 Tbsp sumac
1 tsp Aleppo pepper
1 tsp black pepper, ground
3 tsp salt, kosher
1 cup canola oil
Instructions:
In a blender or food processor, combine blueberries, apple cider vinegar, lemon juice, lemon zest, agave, water, sumac, Aleppo pepper, black pepper and salt.
Blend until smooth.
On medium speed, slowly add in the oil and continue to blend until emulsified and creamy.
Drizzle over your favorite salad and enjoy! Care to save some? Simply transfer to a jar and store in refrigerator for future use.