Blueberries: Inspiring Innovation and Sales
Simple, delicious, versatile and healthy, blueberries are beloved by consumers around the world – and they're ripe with possibility for food & beverage manufacturers.
The versatility of blueberries inspires endless possibilities for innovation. In every format and across all kinds of flavor pairings, these little berries make products pop. Blueberries fit on all aisles of the grocery store, from sweet to savory and beverages to entrees.
Adding a boost of blue is smart business, too. As a familiar favorite, blueberries encourage product trial – and their "premium" glow can translate to elevated sales.
Blueberries Boost the Bottom Line
Far-reaching consumer demand

Health benefits proven as a top purchase driver

Year-round availability with consistent and reliable supply

Low-labor, low-waste ingredient
Feeling inspired? Explore the following sections for information, insights and resources that will support your product development with blueberries.
5 Booming Blueberry Product Categories
Driven by innovation and consumer demand, blueberry product categories are on the rise both in the U.S. and abroad.1 Here are the top five categories setting trends and driving sales:
The U.S. Highbush Blueberry Council (USHBC) has partnered with CuliNex, a leading product development consulting firm focused on clean-label food products, to actively engage and innovate with R&D teams at food and beverage companies. Confidential R&D projects are funded by USHBC and led by CuliNex.
---
Blueberries Add Versatile Appeal
Natural Sweetness: Blueberry ingredients offer a range of ideal solutions to add natural sweetness in product formulations including no added sugar, artificial flavors or preservatives

Color: Natural source of fun and appealing color
Versatility: Blueberry ingredients come in many forms (dried, infused, puree, frozen), perfect for inclusion across food categories

Adaptability: Blueberries pair well with other foods, making them ideal in both sweet and savory applications
---
Trend Forecasting
Stay in the know! Visit our blog for the latest trends, new product releases and industry updates to keep you on the forefront of blueberry product innovation and development.
2020 Global Opportunity Assessment
For food manufacturers looking to give their products a boost of blue, USHBC has uncovered insights on some of the strongest opportunities ahead.
Our 2020 Global Opportunity Assessment sought to better understand which product categories and markets are driving blueberries' impressive global growth – and what makes a blueberry product successful. Here's what we found2:
The Middle East, Africa and Asia Pacific are emerging key markets where blueberries are gaining notable popularity among consumers due to their strong blueberry product growth over the last five years.

Successful brands are celebrating blueberries on labels to tap into growing consumer trends: plant-based foods, clean labels, real ingredients and performance claims.

Visuals of REAL blueberries on packaging with messaging around their associated health benefits may help drive sales.
---
Blueberry Market on the Rise
Get to know the blueberry industry from the inside out. The 2020 USHBC Blueberry Market Situation dives deep into the state of the industry and current blueberry production and highlights increasing consumption and demand in products.
U.S. blueberry consumption continues to increase. From 2000-02 to 2017-19, U.S. fresh blueberry consumption grew over 510%.3

In 2019, per capita use of fresh blueberries reached 2.33 pounds (1,056.87 g.) and frozen per capita consumption was 0.32 pounds (145.15 g.), totaling 2.65 pounds (1,202.02 g.).4

In a recent survey, 80% of manufacturers agreed adding blueberries to their products provides consumers with perceived or additional health benefits. Plus, blueberries' color and flavor add to their popularity, with a majority of manufacturers surveyed citing that blueberries provided added value to their customers.5

Blueberries are an ingredient and flavor consumers recognize and demand.
Blueberries are the fruit most frequently ranked in consumers' top 3 favorites (topping strawberries and bananas).6
60% of consumers believe blueberries have superior health benefits to other fruits.7
93% of consumers consider blueberries a health food.8
83% of consumers consider blueberries a better source of antioxidants compared to other fruits.9
65% of consumers perceive items with blueberries as healthier or better for them than those without.10
---
Blueberry Health Benefits on Packaging Drive Demand
Put the health benefits of blueberries to work on your packaging! They're a top purchase driver for consumers, as immunity and antioxidants consistently are identified as highly desirable consumer benefits across global markets.11
80 calories per serving (1 cup) and virtually no fat

Good source of fiber, a good source of Vitamin C, and provides various vitamins and minerals

Contain polyphenols including anthocyanins (163mg/100g fresh berries), which impart the blue color12

Certified as heart-healthy through the American Heart Association® Heart-Check Food Certification Program
Learn more about blueberry's health benefits to optimize your product's packaging and drive greater interest and demand.
R&D team need a boost? In the USHBC Supplier Database, you can find a domestic or international blueberry supplier that will source the best blueberries for your needs. Then, browse our resources section to dive deep into a wealth of scientific and technical information to support your product innovation and development.
---
R&D Advisory Board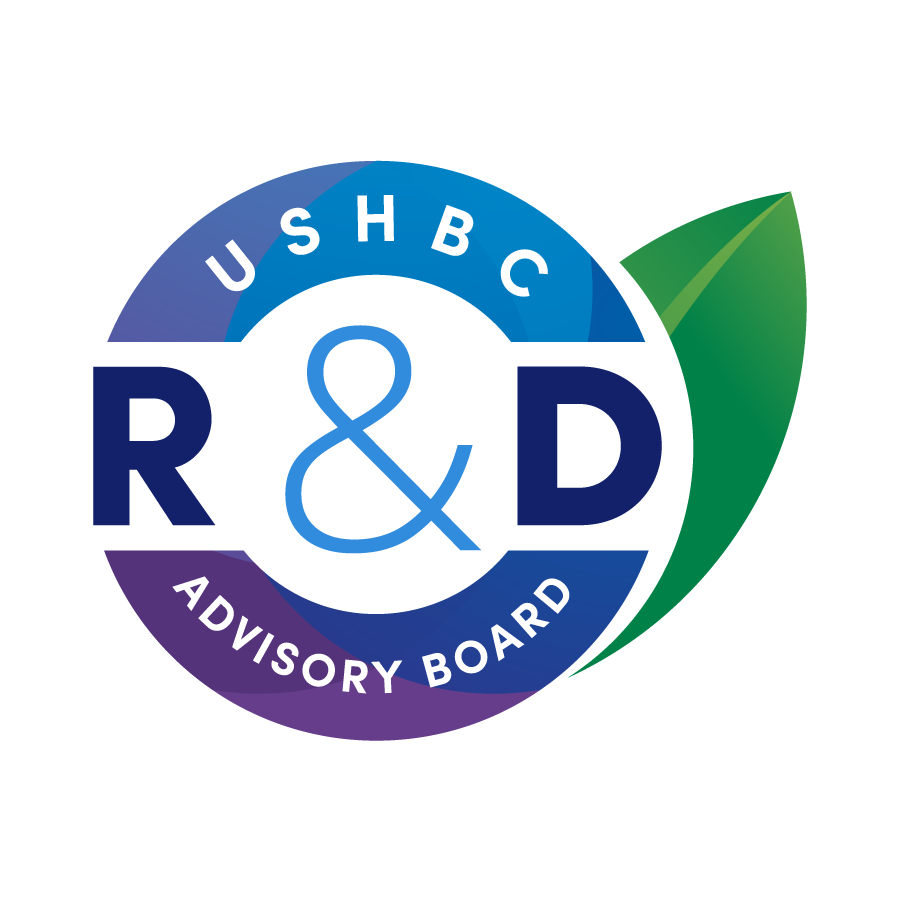 In collaboration with leading food manufacturing professionals, USHBC's R&D Advisory Board stays on the forefront of food trends, addressing barriers to industry growth and label penetration.
The board identifies collective solutions that expand and strengthen the demand for U.S. blueberry ingredients while driving sales and utilization in leading food categories.
---
Let's Connect
Ready to give your products a boost of blue? Visit our Supplier Database to find a supplier that will meet your needs, or reach out for guidance – we're here to help.
1-2,11Padilla, USHBC Global Opportunity Assessment, December 2020
3USDA, Fruit and Tree Nuts Outlook, September 2020
4Fruit Yearbook Supply and Utilization Tables (Tables G-5; G-38), 2020
5Rose Research, Blueberries in Food Manufacturing, August 2019
6Blueberry Customer Segmentation, Topline U&A Study Wave 2 (Page 15), January-February 2020
7-9Blueberry Customer Driven Segmentation Study (Pages 17, 19, 20), April 2019
10U.S. Highbush Blueberry Council, Consumer U&A Study, 2017
12USDA, Database for the Flavonoid Content of Selected Foods (Release 3.1), 2014