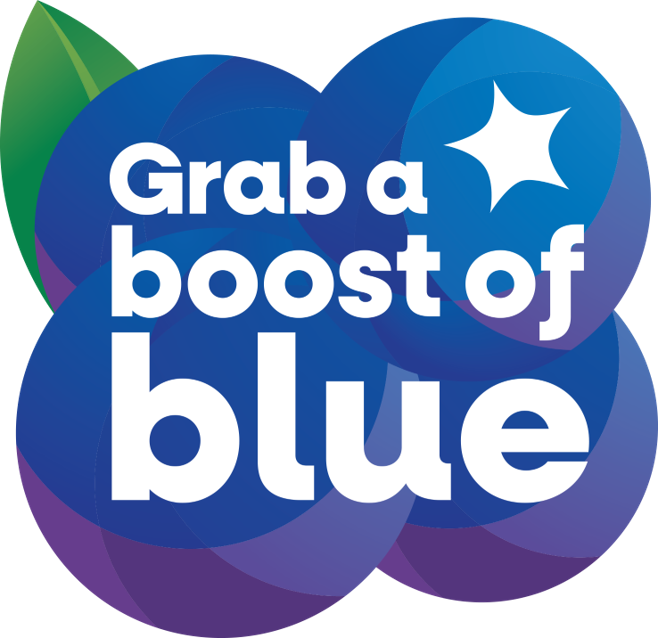 March is Frozen Food Month and there's no better time to share the diverse applications and benefits of keeping frozen blueberries on hand, no matter what time of year! Frozen blueberries are available all year, specially picked for ripeness and frozen at the peak of freshness, straight from the farm. They make a simple, no-stress snack or addition to favorite dishes and are as tasty as they are convenient. Easy to store and easy to love, frozen blueberries are a great way to help consumers meet the recommended daily intake of fruits and vegetables.
From turnkey resources to social media content, and everything in between, let's show your customers, community and partners the cooling benefits of consuming frozen blueberries and why they need a boost of blue in their lives.
Quick Links
Social Media Content
Celebrate Frozen Food Month this March on your store's pages using the square formatted social media image ideal for Instagram, Facebook, Twitter and LinkedIn.
Simply click on the image and download directly from this page. We've made it even easier for you with a suggested caption. Just cut and paste and you're ready to go!
Want more blueberry inspiration? Be sure to follow us to see what USHBC is promoting nationally:
Digital Ads
Use this digital ad as a banner on your website, in newsletter content, on social media channels, or in digital marketing materials. Click the thumbnail below to download!
Frozen Food Month Resource
Not sure how you can encourage customers, partners and your community to use frozen blueberries? Read up on our Frozen Blueberries Fact Sheet, which shares simple ways to incorporate frozen blueberries in recipes, along with health facts to educate your audiences on convenient, healthy and snackable ways to include frozen blueberries into your daily routine. Easy to store, easy to love, and available all year, frozen blueberries are a great way to encourage blueberry consumption year-round!
Simply download this resource for digital or printed use.
Here are ways to use this resource throughout the month of March:
For digital or printed use
Offer it as a comprehensive information resource via your newsletter, website or email
Share it across social media
Use it for media interview talking points
Recipes
These delectable recipes, featuring frozen blueberries as the showstopper ingredient, will awaken the inner chef and inspire experimentation with fresh flavors and frozen ingredients — like turmeric, ginger, and coconut!
Click each image to download and access each recipe on our website to share with your customers.
Additional Blueberry Images
The health benefits of blueberries are undeniable, but their beauty garners attention too! Download some of our favorite blueberry imagery to add to your own library, share on social media, include in your digital newsletter, add to printed collateral or upload to your website.
QR Code
QR codes drive consumers straight to the information we want them to have, and they are used to using them to view restaurant menus, visit websites and access information. Place a QR code on in-store displays and signage, or share in your digital promotions to automatically take consumers to ideas to Grab A Boost of Blue, recipe inspiration, health benefits, and more, right at point-of-sale.
Simply download the QR code to open a zip file containing the code in various formats.